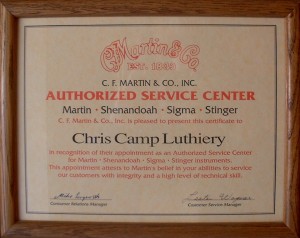 C. F. Martin & Co. Authorized Service Center
Shortly after establishing my shop, I called an old acquaintance of mine at the Martin Guitar Co., Mr. Mike Longworth who was head of customer service at the time, and I asked him if he would consider me as a C.F. Martin warranty station, as I loved their guitars, their history and their family tradition. Mike recalled that I had cut my teeth on repair work at the Pickin' Parlor with Randy Wood and was excited that I had contacted him. Within six months we were offered the Warranty Service Certification. I'm proud to include that level of legitimacy and service for our customers and we have had the privilege of working on literally hundreds of C.F. Martin guitars here in Southern California.
Camp Music has enjoyed the privilege and prestige of being appointed an authorized service center for C. F. Martin & Co for over twenty years. Warranty service is available for registered original owners of Martin Guitars. We use techniques and materials from or approved for use by the Martin Guitar Company. We work closely with Martin owners and the company to provide everyone with a terrific experience that exceeds expectations.